Marjory Stoneman Douglas Student Support
Thank you to everyone for your donations over the last two weeks.
Because of your generosity, we have been able to support March for Our Lives with this $1,000 contribution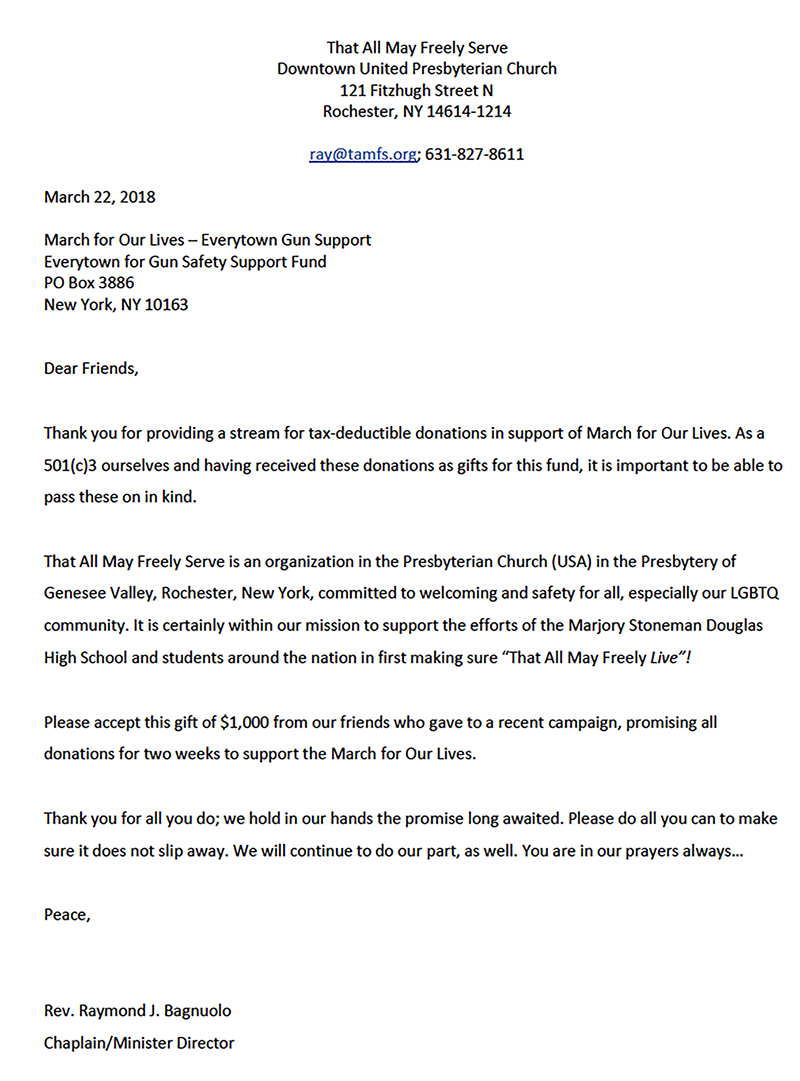 Microsoft Word – 2018.03.22.March for Our Lives
---

Never Again.
That All May Freely Live…
Friends, please support the Marjory Stoneman Douglas High School student organized  "March for Our Lives" through this campaign managed by That All May Freely Serve. 100% of all donations will be submitted to "March for Our Lives" by March 19, 2018 – helping to pay costs for the March on Washington, D.C.  on March 24th.
All donations received by TAMFS between March 3 and March 15
will be donated to support the Never Again Movement.
Please give using our online kiosk here
Whatever you believe may be the solution to gun violence, we all agree that no student should ever be shot to death in a school or elsewhere, ever! By helping the students of Marjory Stoneman Douglas High School in their movement, we can help to restore the dignity and respect for life that all our beliefs call us to hold without exception.
Friends, many of us have worked in movements as activists, advocates and allies. We call on you to now act as all three in supporting these young people from across the country with your financial gift and your individual actions and ongoing prayers.
Too many of us know what it is to lose someone to gun violence.  In their memory and for all those who look to us for their safety, care and love – please give today.
Thank you, Ray
Rev. Ray Bagnuolo, Chaplain and Minister Director of That All May Freely Serve, a ministry of the Presbytery of Genesee Valley, New York with financial oversight provided by Downtown United Presbyterian Church, Rochester, New York. He also serves Sayville Congregational United Church of Christ as pastor.
The picture shows the lawn of Sayville Congregational United Church of Christ in Sayville, New York. Following the shooting, we placed seventeen crosses and Stars of David on our lawn, along with floral wreaths and flowers as a memorial. Since then, we have distributed crosses throughout the area for others who wish to create their own witness to solidarity. At one point, Sayville Church had over 600 crosses on the lawn, beginning with the Sandy Hook, Newtown, CT shooting, adding crosses over the next several months as others died from of gun violence. Whatever the causes and whatever the blend of solutions needed, we agree with the students and with you – Never Again